HVIDOVRE. Hvidovre beats Vendsyssel 3-1. Hvidovre was just to good to grab a decisive 3-0 lead with Lirim Qamili (4′), T. Thomsen (10′) and T. Thomsen (21′). Vendsyssel reduced the distance with a goal (27′) by Ayo Simon Okosun, but there was not much to do for them. Vendsyssel lost this match even if it was superior in terms of ball possession (60%).
The match was played at the Pro Ventilation Arena stadium in Hvidovre on Saturday and it started at 1:00 pm local time. The referee was Anders Skjødt Voergaard assisted by Christian Ginderskov Hansen and Paul Nyberg. The 4th official was Sebastian Friis Aagerup. The weather was cloudy. The temperature was cold at 9.5 degrees Celsius or 49.12 Fahrenheit. The humidity was 91%.​
Match Statistics​
Shots
10

Total

9

4

On Target

4

6

Off Target

5

0

Shots blocked

0
88

Attack

112

28

Dangerous attack

50

167

Ball safe​

160
0

Penalties

0

4

Corners

6

4

Off Sides

8
Fouls
15

Total

12

2

Yellow Cards

0

0

Double Yellow

0

0

Red Card

0
Other
Ball possession
Vendsyssel had a superior ball possession 60% while Hvidovre was struggling with a 40% ball possession.
Attitude and shots
Vendsyssel was more aggressive with 50 dangerous attacks and 9 shots of which 4 were on target. Nonetheless, Hvidovre was able to find the solution to win this match.​
Hvidovre shot 10 times, 4 on target, 6 off target. Talking about the opposition, Vendsyssel shot 9 times, 4 on target, 5 off target.
Cards
Hvidovre received 2 yellow cards (M. Spelmann and M. Lund Nielsen). On the other side, Vendsyssel didn't receive any yellow card.
Match Timeline
Tobias Thomsen
(goal)
M. Nielsen
10'
Tobias Thomsen
(goal)
M. Lindberg
21'
Matti Lund Nielsen
- sub ->
C. Jakobsen
44'
46'
Lucas Jensen
- sub ->
T. Baya
62'
Oscar Buch
- sub ->
T. Konaté
62'
Victor Ekani
- sub ->
C. Lange
Magnus Fredslund
- sub ->
M. Spelmann
72'
Magnus Lysholm Carsten Petersen
- sub ->
M. Nielsen
73'
76'
Anton Søjberg Horup
- sub ->
R. Frantsen
Matti Lund Nielsen
- Yellow
77'
Mathias Andreasen
- sub ->
T. Thomsen
82'
Standings
After this match, Hvidovre will have 44 points to remain in the 2nd place. On the opposite side, Vendsyssel will stay with 33 points to hold in the 5th place.
Next matches
Hvidovre – Formation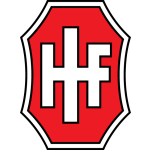 Hvidovre
Substitutes
The manager Per Frandsen decided to play with the following team: Filip Djukic, Daniel Stenderup, Matti Olsen, Ahmed Iljazovski, Marc Nielsen, Martin Spelmann, Christian Jakobsen, Andreas Pyndt Andersen, Tobias Thomsen, Lirim Qamili and Marcus Lindberg.
The home team had on the bench: Marius Holst Papuga, Mathias Andreasen, Elias Rausborg, Magnus Fredslund, Andreas Smed, Casper Hauervig, Matti Lund Nielsen, Magnus Lysholm Carsten Petersen and Morten Olsen.
Substitutions
Hvidovre made 4 changes: C. Jakobsen for Matti Lund Nielsen (44′), M. Spelmann for Magnus Fredslund (72′), M. Nielsen for Magnus Lysholm Carsten Petersen (73′) and T. Thomsen for Mathias Andreasen (82′).
Vendsyssel – Formation

Vendsyssel
Substitutes
Henrik Pedersen played with: Marcus Bundgaard Sorensen, Rune Frantsen, Terence Baya, Tobias Pajbjerg Anker, Emil Nielsen, Ayo Simon Okosun, Zander Hyltoft, Carl Lange, Tiémoko Konaté, Wessam Abou Ali and Lasse Steffensen.
These were the players on the bench: Anton Søjberg Horup, Fabrice Ndzie Mezama, Magnus Kjellerup Andersen, Lucas Jensen, Victor Sylvestre Mpindi Ekani, Jared Thompson, Oscar Buch and Jeppe Syndergaard Jensen.
Substitutions
Vendsyssel made 4 changes: T. Baya for Lucas Jensen (46′), T. Konaté for Oscar Buch (62′), C. Lange for Victor Ekani (62′) and R. Frantsen for Anton Søjberg Horup (76′).
Results of the day
These are the results of the day in the First Division.​