FREDERICIA. Fredericia prevailed over Fremad Amager to win 2-1. It was Fredericia to strike first with a goal of M. Wohlgemuth at the 45′. Then it was a goal in the 59′ minute to make things even for 1-1. Eventually, J. Gertsen gave the win to Fredericia in the 61′ minute with a goal. Fremad Amager was definitely superior in terms of ball possession (63%).​
Fredericia remained with 10 players after J. Brinch received a double yellow card in the 66′. Notwithstanding, Fredericia still was able to win this encounter competing only in players​.
The match was played at the Monjasa Park stadium in Fredericia on Saturday and it started at 1:00 pm local time. The referee was Michael Rasmussen with the support of Daniel Cortzen and Troels Christensen. The 4th official was Allan Staal. The weather was cloudy. The temperature was cold at 11.6 degrees Celsius or 52.9 Fahrenheit. The humidity was 88%.​
Match Statistics​
!

37

Ball Possession

63
Shots
11

Total

9

6

On Target

2

5

Off Target

7

0

Shots blocked

0
97

Attack

115

78

Dangerous attack

32

145

Ball safe​

221
0

Penalties

0

12

Corners

0
Fouls
11

Total

15

2

Yellow Cards

3

1

Double Yellow

0

1

Red Card

0
Other
Ball possession
Fremad Amager was in firm control of the ball 63% while Fredericia was struggling with a 37% ball possession.
Attitude and shots
Fredericia was more aggressive with 78 dangerous attacks and 11 shots of which 6 were on target. This is one of the reasons why Fredericia won the match​.
Fredericia shot 11 times, 6 on target, 5 off target. Talking about the opposition, Fremad Amager shot 9 times, 2 on target, 7 off target.
Cards
Fredericia received 2 yellow cards (M. Wohlgemuth and J. Brinch). On the opposite side, Fremad Amager received 3 yellow cards (M. Aaquist, C. Palm and C. Allen).
J. Brinch (Fredericia) was sent off after receiving a second yellow card (66′).
Match Timeline
Mikkel Wohlegemuth
- Yellow
2'
4'
Jacob Haahr
- sub ->
P. Kanstrup
27'
Marc Winkel
- sub ->
C. Friedrich
Anders Bak Holvad
- sub ->
M. Wohlgemuth
46'
46'
Jakob Johansson
- sub ->
L. Haren
59'
Gustav Olsted Marcussen
(goal)
Jesper Juelsgaard
- sub ->
A. Jakobsen
69'
Frederik Christensen
- sub ->
F. Carstensen
75'
Nicolai Brock-Madsen
- sub ->
N. Ritter
76'
77'
Hektor Højbjerre-Thomsen
- sub ->
M. Winkel
Standings
After playing this match, Fredericia will have 21 points to hold in the 11th place. On the opposite side, Fremad Amager will stay with 23 points like Hobro to remain in the 9th place.
Next matches
Fredericia – Formation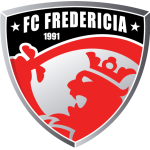 Fredericia
Substitutes
The manager Michael Hansen decided to play with the following team: Valdemar Birksø Thorsen, Nicolaj Ritter, Jeppe Brinch-Vilhelmsen, Jeppe Gertsen, Oliver Olsen, Mikkel Wohlgemuth, Mathias Kristensen, Nicklas Røjkjær, Simon Bækgård, Adam Jakobsen and Frederik Carstensen.
The home team had on the bench: Anders Bak Holvad, Erik Nissen, Frederik Ørsøe Christensen, Nicolai Brock-Madsen, Andreas Sejr Lausen, Jesper Juelsgård Kristensen and Sebastian Linnet John.
Substitutions
Fredericia made 4 changes: M. Wohlgemuth for Anders Bak Holvad (46′), A. Jakobsen for Jesper Juelsgaard (69′), F. Carstensen for Frederik Christensen (75′) and N. Ritter for Nicolai Brock-Madsen (76′).
Fremad Amager – Formation

Fremad Amager
Substitutes
Carit Falch played with: Jacob Pryts Larsen, Pierre Kanstrup, Hans Christian Bonnesen, Christian Friedrich, Cornelius Allen, Mads Aaquist, Markus Strøm Bay, Gustav Ølsted Marcussen, Lucas Janus Ravn-Haren, Christoffer Palm and Mel Yannick Joel Agnero.
They had on the bench: Hektor Højbjerre-Thomsen, Marc Winkel, Mikkel Fossum Basse, Jakob Johansson, Christian Køhler, Alexander Johansen, Oliver Fløe Stenberg Funch, Mikkel Prasz Lejbowicz and Jacob Haahr Steffensen.
Substitutions
Fremad Amager made 4 changes: P. Kanstrup for Jacob Haahr (4′), C. Friedrich for Marc Winkel (27′), L. Haren for Jakob Johansson (46′) and M. Winkel for Hektor Højbjerre-Thomsen (77′).
Results of the day
These are the results of the day in the First Division.​