SOFIA. CSKA Sofia conquers Spartak Varna 1-0 after M. Garcez scored just 1 goal (14′). CSKA Sofia capitalized on its better ball possession (59%).
The match was played at the Stadion Bâlgarska Armija stadium in Sofia on Saturday and it started at 5:00 pm local time.
Match Statistics​
Shots
14

Total

6

4

On Target

2

5

Off Target

3

5

Shots blocked

1
123

Attack

88

86

Dangerous attack

57

0

Ball safe​

0
0

Penalties

0

3

Corners

2

1

Off Sides

5
Fouls
14

Total

10

2

Yellow Cards

2

0

Double Yellow

0

0

Red Card

0
Other
Ball possession
CSKA Sofia had a superior ball possession 59% while Spartak Varna was struggling with a 41% ball possession.
Attitude and shots
CSKA Sofia was more aggressive with 86 dangerous attacks and 14 shots of which 4 were on target. This is one of the reasons why CSKA Sofia won the match​.
CSKA Sofia shot 14 times, 4 on target, 5 off target. Regarding the opposition, Spartak Varna shot 6 times, 2 on target, 3 off target.
Cards
CSKA Sofia received 2 yellow cards (Jurgen Mattheij and Stanislav Shopov). On the other side, Spartak Varna received 4 yellow cards (V. Mitev, B. Vasev, B. Vasev and B. Vasev).
Match Timeline
61'
Denys Balanyuk
- sub ->
João Mário
Daouda Karamoko Bamba
- sub ->
Lazar Tufegdzic
64'
Marcelino Carreazo
- sub ->
Stanislav Shopov
69'
Thibaut Vion
- sub ->
Tobias Heintz
69'
73'
Ewandro
- sub ->
L. Mickels
Enes Mahmutovic
- sub ->
Bradley de Nooijer
80'
B. Kwarema
- sub ->
Duckens Nazon
80'
85'
Rumen Rumenov
- sub ->
Luan
85'
Bozhidar Vasev
- sub ->
R. Antwi
Standings
After playing this contest, CSKA Sofia will have 60 points to hold in the 1st place. On the opposite side, Spartak Varna will stay with 12 points to hold in the 16th place.
Next matches
In the next match in the Spartak Varna will host Beroe on the 9th of April with a 2-2 head to head stats.
CSKA Sofia – Formation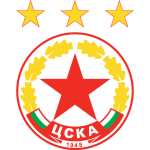 CSKA Sofia
Substitutes
CSKA Sofia started with a 3-5-2 line-up (3-5-2).
The manager Saša Ilić decided to play with the following team: Gustavo Busatto, Amos Youga, Jurgen Matheij, Hristiyan Petrov, Bradley de Nooijer, Jonathan Lindseth, Stanislav Shopov, Tobias Heintz, Maurício Garcez de Jesus, Lazar Tufegdžić and Duckens Nazon.
The home team had on the bench: Dimitar Evtimov, Menno Koch, Enes Mahmutović, Galin Minkov, Ivan Turitsov, Marcelino Carreazo, Zhirayr Shaghoyan, Daouda Karamoko Bamba and Bismark Charles Sie.
Substitutions
CSKA Sofia made 4 changes: Lazar Tufegdzic for Daouda Karamoko Bamba (64′), Stanislav Shopov for Marcelino Carreazo (69′), Tobias Heintz for Thibaut Vion (69′) and Bradley de Nooijer for Enes Mahmutovic (80′).
Spartak Varna – Formation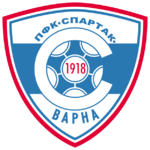 Spartak Varna
Substitutes
Spartak Varna started with an extremely aggressive line-up (3-4-3).
Dimitar Petrov Dimitrov played with: Cristiano Pereira, Ben Kantie Karamoko, Plamen Dimov, Aleksandar Tsvetkov, Luan, Rober Sierra, Ivan Yordanov, Viktor Mitev, Rodney Antwi, João Mário and Leroy-Jacques Mickels.
The following players were sitting on the bench: Ivan Dichevski, Alexandr Belousov, Ewandro Costa, Nathan Holder, Ivaylo Klimentov, Rumen Rumenov, Bozhidar Vasev and Denys Balanyuk.
Substitutions
Spartak Varna made 4 changes: João Mário for Denys Balanyuk (61′), L. Mickels for Ewandro (73′), Luan for Rumen Rumenov (85′) and R. Antwi for Bozhidar Vasev (85′).
Results of the day
These are the results of the day in the First League.​