MAIDENHEAD. Maidenhead United beat Maidstone United to win 2-1. E. Acquah was the key for his team after scoring 2 goals. It was Maidenhead United to strike first with a goal of Emile Acquah at the 23′. Then Emile Acquah scored again for Maidenhead United in the 32′ minute scoring a double. Eventually, R. Booty reduced the distance for Maidstone United (76′). Finally, that was it, and the result remained 2-1. Maidstone United lost this match even if it was superior in terms of ball possession (57%).
The match was played at the York Road Stadium stadium in Maidenhead on Saturday and it started at 3:00 pm local time. The referee was Jacob Miles.
Match Statistics​
Shots
9

Total

7

6

On Target

3

3

Off Target

4

0

Shots blocked

0
123

Attack

177

65

Dangerous attack

92

116

Ball safe​

144
0

Penalties

0

5

Corners

6
Fouls
1

Yellow Cards

0

0

Double Yellow

0

0

Red Card

0
Other
Ball possession
Maidstone United had a superior ball possession 57% while Maidenhead United was struggling with a 43% ball possession.
Attitude and shots
Maidstone United was putting more pressure with 92 dangerous attacks and 7 shots of which 3 were on target. Still, Maidenhead United was able to find the solution to win this encounter.​
Maidenhead United shot 9 times, 6 on target, 3 off target. Regarding the opposition, Maidstone United shot 7 times, 3 on target, 4 off target.
Cards
Maidenhead United received 1 yellow card (Alan Massey). Talking about the opposition, Maidstone United didn't receive any yellow card.
Match Timeline
61'
Kevin Berkoe
- sub ->
M. Marshall
61'
Solomon Wanjau Smith
- sub ->
J. Alabi
Shawn McCoulsky
- sub ->
Sam Barratt
70'
Adam Leather
- sub ->
R. Smith
78'
82'
Shamar Lawson
- sub ->
J. Shonibare
Sam Beckwith
- sub ->
A. Nathaniel-George
90'
Standings
After playing this match, Maidenhead United will have 47 points to sit in the 14th place. Regarding the opposition, Maidstone United will stay with 24 points to hold in the 24th place.
Next matches
In the next match in the National League, Maidenhead United will play away with Gateshead on the 29th of April with a 4-1 head to head record in favor of Gateshead (0 draws).
Maidstone United will play away agasint Chesterfield on the 29th of April with a 2-0 head to head statistic in favor of Chesterfield (1 draw).
Maidenhead United – Formation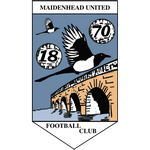 Maidenhead United
Substitutes
The manager Alan Ernest Devonshire decided to play with the following team: Alexis André, Alan Massey, Kane Ryan Ferdinand, Will De Havilland, Zico Asare, Idris Odutayo, Charlee Adams, Ashley Nathaniel-George, Reece Smith, Sam Barratt and Emile Acauah.
The home team had on the bench: Shawn McCoulsky, Adam Leather, Sam Beckwith, Ryan Upward and Temi Eweka.
Substitutions
Maidenhead United made 3 changes: Sam Barratt for Shawn McCoulsky (70′), R. Smith for Adam Leather (78′) and A. Nathaniel-George for Sam Beckwith (90′).
Maidstone United – Formation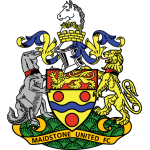 Maidstone United
Substitutes
Hakan Ramis-Hayrettin played with: Daniel Barden, Mark Marshall, Jerome Binnom-Williams, George Fowler, Sam Bone, Regan Booty, Josh Shonibare, Bivesh Gurung, Dominic Odusanya, Mamadou Jobe and James Alabi.
These were the players on the bench: Solomon Wanjau Smith, Kevin Berkoe, Shamar Lawson, Raphe Brown and Yusuf Mersin.
Substitutions
Maidstone United made 3 changes: M. Marshall for Kevin Berkoe (61′), J. Alabi for Solomon Wanjau Smith (61′) and J. Shonibare for Shamar Lawson (82′).
Results of the day
These are the results of the day in the National League.​