WOKING. Chesterfield overcomes Woking 1-0 after O. Banks scored a penalty (37′).
The match was played at the The Laithwaite Community Stadium stadium in Woking on Saturday and it started at 12:30 pm local time. The referee was Lewis Smith. The weather was rainy. The temperature was cold at 11.8 degrees Celsius or 53.17 Fahrenheit. The humidity was 80%.​
Match Statistics​
Shots
4

Total

16

3

On Target

7

1

Off Target

7

0

Shots blocked

2
93

Attack

102

60

Dangerous attack

74

103

Ball safe​

128
0

Penalties

1

7

Corners

9

2

Off Sides

4
Fouls
19

Total

14

3

Yellow Cards

2

0

Double Yellow

0

0

Red Card

0
Other
Ball possession
The ball possession was not so different. Woking was in possession of the ball for 52% of the time vs. Chesterfield that controlled the ball for 48% of the time.
Attitude and shots
Chesterfield was more aggressive with 74 dangerous attacks and 16 shots of which 7 were on target. This is one of the reasons why Chesterfield won the encounter.​
Woking shot 4 times, 3 on target, 1 off target. Regarding the opposition, Chesterfield shot 16 times, 7 on target, 7 off target.
Cards
Woking received 3 yellow cards (Rohan Ince, Dan Moss and Jim Kellermann). Talking about the opposition, Chesterfield received 2 yellow cards (Laurence Maguire and Ollie Banks).
Match Timeline
Billy Sass-Davies
- sub ->
Luke Wilkinson
18'
Marcus Dackers
- sub ->
Kyran Lofthouse
60'
Solomon Nwabuokei
- sub ->
Ricky Korboa
60'
80'
Armando Dobra
- sub ->
Ryan Colclough
80'
Jesurun Uchegbulam
- sub ->
Andy Dallas
90'
Paul McCallum
- sub ->
Joe Quigley
Standings
After playing this match, Woking will stay with 68 points like Chesterfield to remain in the 3rd place. Talking about the opposition, Chesterfield will have 68 points like Woking to hold in the 4th place.
Next matches
In the next match in the National League, Woking will play away against Solihull Moors on the 29th of April with a 5-4 head to head statistic in favor of Woking (1 draw).
Chesterfield will host Maidstone United on the 29th of April with a 2-0 head to head in favor of Chesterfield (1 draw).
Woking – Formation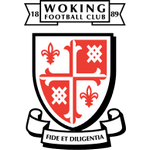 Woking
Substitutes
The manager Darren Sarll decided to play with the following team: William Jääskeläinen, Scott Cuthbert, Josh Casey, Luke Wilkinson, Daniel Moss, Rohan Ince, James Kellerman, Rhys Browne, Padraig Amond, Kyran Lofthouse and Ricky Korboa.
The home team had on the bench: Billy Sass-Davies, Solomon Nwabuokei, Marcus Dackers, Joe McNerney and Craig Ross.
Substitutions
Woking made 3 changes: Luke Wilkinson for Billy Sass-Davies (18′), Kyran Lofthouse for Marcus Dackers (60′) and Ricky Korboa for Solomon Nwabuokei (60′).
Chesterfield – Formation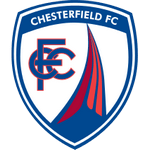 Chesterfield
Substitutes
Paul Cook played with: Ross Fitzsimons, Jamie Grimes, Ashley Palmer, Laurence Maguire, Mike Jones, Oliver Banks, Jeff Francis King, Ryan Colclough, Liam Mandeville, Joe Quigley and Andrew Dallas.
These were the players on the bench: Armando Dobra, Jesurun Uchegbulam, Paul McCallum, Ryheem Sheckleford and Darren Oldaker.
Substitutions
Chesterfield made 3 changes: Ryan Colclough for Armando Dobra (80′), Andy Dallas for Jesurun Uchegbulam (80′) and Joe Quigley for Paul McCallum (90′).
Results of the day
These are the results of the day in the National League.​