BOLTON. Bradford City bounces back against Hartlepool United with a goal on the C. Cooke 33′ and a goal on the D. Kemp 71′.
The match was played at the University of Bolton Stadium stadium in Bolton on Saturday and it started at 1:00 pm local time. The referee was Declan Bourne with the collaboration of Richard Woodward and Richard Wigglesworth. The 4th official was Steve Rushton. The weather was cloudy. The temperature was cold at 12.5 degrees Celsius or 54.41 Fahrenheit. The humidity was 80%.​
Match Statistics​
Shots
18

Total

10

7

On Target

4

11

Off Target

3

0

Shots blocked

3
117

Attack

101

53

Dangerous attack

41

0

Ball safe​

0
0

Penalties

0

2

Corners

7

4

Off Sides

4
Fouls
9

Total

11

1

Yellow Cards

2

0

Double Yellow

0

0

Red Card

0
Other
Ball possession
No teams had a vastly superior advantage in terms of ball possession. Bradford City was in possession of the ball for 54% of the time vs. Hartlepool United that controlled the ball for 46% of the time.
Attitude and shots
Bradford City was putting more pressure with 53 dangerous attacks and 17 shots of which 7 were on target. Nonetheless, that was not enough Bradford City to win the match​.
Bradford City shot 17 times, 7 on target, 10 off target. Talking about the opposition, Hartlepool United shot 9 times, 4 on target, 2 off target.
Cards
Bradford City received 1 yellow card (Andy Cook). Talking about the opposition, Hartlepool United received 2 yellow cards (Mohamad Sylla and Dan Kemp).
Match Timeline
Andy Cook
(goal)
Richard Smallwood 
49'
71'
Daniel Kemp
(goal)
Jamie Sterry
Scott Banks
- sub ->
Adam Clayton
74'
Ryan East
- sub ->
Brad Halliday
74'
75'
Jack Hamilton
- sub ->
Josh Umerah
Vadaine Oliver
- sub ->
D. Costelloe
90'
Tolaji Bola
- sub ->
Liam Ridehalgh
90'
Romoney Crichlow-Noble
- sub ->
Jamie Walker 
90'
Standings
After this match, Bradford City will have 60 points like Stockport County to sit in the 6th place. On the opposite side, Hartlepool United will have 31 points to sit in the 23rd place.
Next matches
In the next match in the League Two, Bradford City will play away with Swindon Town on the 18th of April with a 6-5 head to head statistic in favor of Swindon Town (6 draws).
Hartlepool United will play away agasint Salford City on the 18th of April with a 4-1 head to head in favor of Salford City (3 draws).
Bradford City – Formation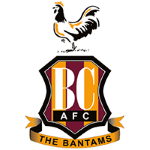 Bradford City
Substitutes
Bradford City started with a 4-3-1-2 line-up (4-3-1-2).
The manager Mark Hughes decided to play with the following team: Harry Lewis, Liam Ridehalgh, Brad Halliday, Matthew Platt, Sam Stubbs, Adam Clayton, Richard Smallwood, Jamie Walker, Alex Gilliead, Andy Cook and Dara Costelloe.
The home team had on the bench: Harrison Chapman, Ryan Henry East, Romoney Crichlow-Noble, Vadaine Oliver, Colin Doyle, Tolaji Bola and Scott Banks.
Bradford City could not rely on the presence of Romoney Crichlow (injured).
Substitutions
Bradford City made 5 changes: Brad Halliday for Ryan East (74′), Adam Clayton for Scott Banks (74′), Jamie Walker  for Romoney Crichlow-Noble (90′), D. Costelloe for Vadaine Oliver (90′) and Liam Ridehalgh for Tolaji Bola (90′).
Hartlepool United – Formation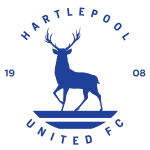 Hartlepool United
Substitutes
Hartlepool United started with a 5-3-2 line-up (5-3-2).
Keith Curle played with: Jakub Stolarczyk, David Ferguson, Euan Murray, Jamie Sterry, Daniel Dodds, Edon Pruti, Callum Cooke, Mohamad Sylla, Daniel Kemp, Conner Jennings and Josh Umerah.
The following players were sitting on the bench: Ben Killip, Matthew Dolan, Oliver Finney, Jack Hamilton, Brendan Kiernan, Nicky Featherstone and Taylor Foram.
Substitutions
Hartlepool United made only 1 change substituting Josh Umerah for Jack Hamilton (75′)​.
Results of the day
These are the results of the day in the League Two.​