WAALWIJK. NEC topped RKC Waalwijk 3-1 thanks to O. Tannane who scored in the 18th and 31st minute. NEC was just to good to grab a decisive 3-0 lead with Oussama Tannane (18′), E. Tavşan (26′) and Oussama Tannane (31′). RKC Waalwijk reduced the distance with a goal (61′) by Vurnon Anita, but there was not much to do for them. RKC Waalwijk lost this match even if it was better in terms of ball possession (59%).
Oussama Tannane missed a penalty (71′) for NEC.​
The match was played at the Mandemakers Stadion stadium in Waalwijk on Saturday and it started at 9:00 pm local time. The referee was Dennis Higler with the help of Marco Ribbink and Mark Janssen. The 4th official was Martijn Vos. The weather was cloudy. The temperature was cold at 10.9 degrees Celsius or 51.66 Fahrenheit. The humidity was 78%.​
Match Statistics​
Shots
15

Total

12

4

On Target

7

7

Off Target

5

4

Shots blocked

0
134

Attack

76

54

Dangerous attack

38

78

Ball safe​

81
0

Penalties

1

2

Corners

4

2

Off Sides

1
Fouls
14

Total

9

2

Yellow Cards

1

0

Double Yellow

0

0

Red Card

0
Other
Ball possession
RKC Waalwijk had a strong ball possession 59% while NEC was struggling with a 41% ball possession.
Attitude and shots
RKC Waalwijk was more aggressive with 54 dangerous attacks and 15 shots of which 4 were on target. Even so, NEC managed to find the solution to win this match.​
RKC Waalwijk shot 15 times, 4 on target, 7 off target. Regarding the opposition, NEC shot 12 times, 7 on target, 5 off target.
Cards
RKC Waalwijk received 2 yellow cards (Yassin Oukili and Etienne Vaessen). Regarding the opposition, NEC received 1 yellow card (Souffian El Karouani).
Match Timeline
26'
Elayis Tavsan 
(goal)
Dirk Proper
Zakaria Bakkali
- sub ->
Thierry Lutonda
46'
89'
Pedro Marques
- sub ->
Landry Dimata
Standings
After this contest, RKC Waalwijk will stay with 32 points to hold in the 9th place. Talking about the opposition, NEC will have 34 points to remain in the 8th place.
Next matches
In the next match in the Eredivisie, RKC Waalwijk will host FC Groningen on the 15th of April with a 7-6 head to head stats in favor of FC Groningen (5 draws).
NEC will play away agasint FC Groningen on the 23rd of April with a 11-10 head to head statistic in favor of NEC (10 draws).
RKC Waalwijk – Formation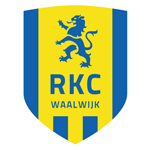 RKC Waalwijk
Substitutes
RKC Waalwijk started with a 3-5-2 line-up (3-5-2).
The manager Joseph Oosting decided to play with the following team: Etienne Vaessen (6.7), Jurien Gaari (6.3), Shawn Adewoye (6.1), Dario Van Den Buijs (6.1), Julian Lelieveld (5.9), Yassin Oukili (6.2), Vurnon Anita (7.4), Pelle Clement (7.0), Thierry Lutonda (6.4), Michiel Kramer (6.1) and Mats Seuntjens (7.4).
The home team had on the bench: Joel Pereira, Iliass Bel Hassani, Mark Spenkelink, Saïd Bakari (6.6), Kevin Felida, Lars Nieuwpoort, Zakaria Bakkali (7.1), Patrick Vroegh, Mika Biereth (6.8), Florian Jozefzoon (7.0), Roy Kuijpers and Julen Lobete (6.6).
Substitutions
RKC Waalwijk made 5 changes: Julian Lelieveld for Florian Jozefzoon (46′), Thierry Lutonda for Zakaria Bakkali (46′), Michiel Kramer  for Mika Bieveth (62′), Yassin Oukili for Julen Lobete (62′) and Dario Van den Buijs for Saïd Bakari (74′).
Best player: Vurnon Anita​
The player that probably impressed the most for RKC Waalwijk was Vurnon Anita.
His rating is (7.4) with 1 goal, 51 passes (92% accurate) and 2 key passes. He was won 3 duels out of 6.
NEC – Formation
NEC
Substitutes
NEC started with a 4-2-3-1 line-up (4-2-3-1).
Rogier Meijer played with: Jasper Cillessen (6.8), Bart van Rooij (7.3), Iván Márquez (7.0), Joris Kramer (6.2), Souffian El Karouani (6.3), Lasse Schøne (6.7), Dirk Proper (7.1), Elayis Tavsan (7.5), Oussama Tannane (8.6), Magnus Mattsson (6.4) and Landry Dimata (6.8).
The following players were sitting on the bench: Pedro Marques (7.0), Terry Sanniez, Mattijs Branderhorst, Anthony Musaba, Ibrahim Cissoko, Jordy Bruijn, Ilias Bronkhorst, Andri Fannar Baldursson (6.5) and Rijk Janse.
Substitutions
NEC made 5 changes: Magnus Mattsson for Andri Fannar Baldursson (76′), E. Tavşan for Anthony Musaba (84′), Landry Dimata for Marques (89′), Lasse Schöne for Jordy Bruijn (90′) and Lasse Schöne for Terry Sanniez (90′).
Best player: Oussama Tannane​
As per our analysis, the most impressive player for NEC was Oussama Tannane.
His rating is (8.6) with 2 goals, 47 passes (82% accurate) and 3 key passes. He was won 5 duels out of 7. He performed 4 crosses.
Results of the day
These are the results of the day in the Eredivisie.​