EMMEN. Sparta Rotterdam had a surprising win over FC Emmen with a 2-0 win with a goal from K. Saito (44′) and a goal from V. van (89′).
The match was played at the De Oude Meerdijk stadium in Emmen on Saturday and it started at 6:45 pm local time. The referee was Sander van der Eijk with the assistance of Dyon Fikkert and Roan van Marrewijk. The 4th official was Luuk Timmer. The weather was cloudy. The temperature was cold at 10.2 degrees Celsius or 50.36 Fahrenheit. The humidity was 92%.​
Match Statistics​
Shots
12

Total

15

6

On Target

8

5

Off Target

3

1

Shots blocked

4
124

Attack

110

58

Dangerous attack

59

91

Ball safe​

99
0

Penalties

0

1

Corners

8
Fouls
8

Total

11

0

Yellow Cards

2

0

Double Yellow

0

0

Red Card

0
Other
Ball possession
There was not much difference in terms of ball possession. FC Emmen was in possession of the ball for 48% of the time vs. Sparta Rotterdam that controlled the ball for 52% of the time.
Attitude and shots
Sparta Rotterdam was putting more pressure with 59 dangerous attacks and 15 shots of which 8 were on target. This is one of the reasons why Sparta Rotterdam won the match.​
FC Emmen shot 12 times, 6 on target, 5 off target. On the other side, Sparta Rotterdam shot 15 times, 8 on target, 3 off target.
Cards
FC Emmen didn't receive any yellow card. Regarding the opposition, Sparta Rotterdam received 3 yellow cards (Joshua Kitolano, Sem Steijn and Mike Eerdhuijzen).
Match Timeline
Ahmed El Messaoudi
- sub ->
Lucas Bernadou
60'
90'
Rick Meissen
- sub ->
Shurandy Sambo
Standings
After this contest, FC Emmen will stay with 21 points to remain in the 15th place. Regarding the opposition, Sparta Rotterdam will have 46 points to remain in the 5th place.
Next matches
In the next match in the Eredivisie, FC Emmen will host NEC on the 9th of April with a 4-1 head to head in favor of NEC (1 draw).
Sparta Rotterdam will play away agasint FC Twente on the 22nd of April with a 14-7 head to head statistic in favor of FC Twente (4 draws).
FC Emmen – Formation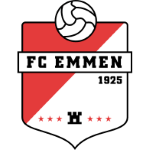 FC Emmen
Substitutes
FC Emmen adopted the 4-2-3-1 line-up (4-2-3-1).
The manager Dick Lukkien decided to play with the following team: Mickey van der Hart (7.3), Mohamed Bouchouari (6.4), Miguel Araujo (6.7), Mike te Wierik (7.0), Julius Dirksen (7.1), Lucas Bernadou (6.4), Keziah Veendorp (7.1), Ole Romeny (7.0), Jari Vlak (6.2), Jeremy Antonisse (6.7) and Mark Diemers (7.0).
The home team had on the bench: Michael Heylen, Azzeddine Toufiqui, Kyan van Dorp, Eric Oelschlägel, Danny Hoesen, Dennis Vos, Lorenzo Burnet, Jasin Assehnoun (6.4) and Ahmed El Messaoudi (6.4).
Substitutions
FC Emmen made 3 changes: Lucas Bernadou for Ahmed El Messaoudi (60′), J. Antonisse for Jasin-Amin Assehnoun (79′) and Keziah Veendorp for Danny Hoesen (85′).
Best player: Mickey van der Hart​
Following our analysis, the most impressive player for FC Emmen was the goalkeeper: Mickey van der Hart. His rating is 7.31. He performed 6 saves.
Sparta Rotterdam – Formation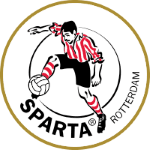 Sparta Rotterdam
Substitutes
Also Sparta Rotterdam adopted the 4-2-3-1 line-up (4-2-3-1).
Maurice Steijn played with: Nick Olij (8.1), Shurandy Sambo (7.1), Bart Vriends (6.9), Mike Eerdhuijzen (7.2), Mica Pinto (7.0), Jeremy Van Mullem (6.6), Joshua Kitolano (6.8), Vito van Crooij (8.5), Arno Verschueren (6.9), Koki Saito (7.3) and Tobias Lauritsen (7.6).
The following players were sitting on the bench: Youri Schoonderwaldt, Dirk Abels, Mohammed Tahiri, Rick Meissen, Younes Namli, Patrick Brouwer, Aaron Meijers (6.8), Delano van Crooy, Elias Hoff Melkersen and Pedro Alemañ Serna.
Substitutions
Sparta Rotterdam made 3 changes: K. Saito for Aaron Meijers (75′), Arno Verschueren for Dirk Abels (85′) and Shurandy Sambo for Rick Meissen (90′).
Best player: Vito van Crooij​
Following our analysis, the most impressive player for Sparta Rotterdam was Vito van Crooij.
His rating is (8.5) with 1 goal, 28 passes (78% accurate) and 4 key passes. He was won 3 duels out of 6. He performed 13 crosses.
Results of the day
These are the results of the day in the Eredivisie.​