VIRTON. Excelsior Virton beats Standard Liège II 1-0 after I. Mboyo scored just 1 goal (19′). Standard Liège II lost this match even if it was superior in terms of ball possession (59%).
The match was played at the Stade Yvan Georges stadium in Virton on Saturday and it started at 4:00 pm local time. The referee was Jordy Vermeire with the support of Lennert Jans and Jordan Vandenborre. The 4th official was Ken Vermeiren. The weather was cloudy. The temperature was quite cold at 5.7 degrees Celsius or 42.24 Fahrenheit. The humidity was 63%.​
Match Statistics​
Shots
11

Total

15

2

On Target

4

9

Off Target

11

0

Shots blocked

0
64

Attack

81

35

Dangerous attack

52

0

Ball safe​

0
0

Penalties

0

3

Corners

8
Fouls
18

Total

11

1

Yellow Cards

1

0

Double Yellow

0

0

Red Card

0
Other
Ball possession
Standard Liège II had a superior ball possession 59% while Excelsior Virton was struggling with a 41% ball possession.
Attitude and shots
Standard Liège II had a more offensive attitude with 52 dangerous attacks and 15 shots of which 4 were on target. Nonetheless, Excelsior Virton found a way to find the solution to win this contest.​
Excelsior Virton shot 11 times, 2 on target, 9 off target. On the other side, Standard Liège II shot 15 times, 4 on target, 11 off target.
Cards
Excelsior Virton received 1 yellow card (J. Vinck). On the opposite side, Standard Liège II received 1 yellow card (L. Kuavita).
Match Timeline
Ilombe Mboyo
(goal)
Yann Mabella
19'
Hakim Abdallah
- sub ->
Yann Mabella
55'
Emeric Dudouit
- sub ->
H. Kagé
55'
58'
Brahim Ghalidi
- sub ->
R. Berberi
60'
Léandre Filipe Kuavita
- Yellow
67'
Birame Diaw
- sub ->
L. Kuavita
Pierre Bourdin
- sub ->
Yanick Aguemon
75'
75'
A. Calut
- sub ->
F. Duplus
Arne Cassaert
- sub ->
I. Mboyo
88'
Standings
After playing this contest, Excelsior Virton will have 17 points to remain in the 12th place. Talking about the opposition, Standard Liège II will stay with 23 points to hold in the 10th place.
Next matches
In the next match in the Challenger Pro League, Excelsior Virton will host Lommel United on the 9th of April with a 12-8 head to head in favor of Lommel United (4 draws).
Standard Liège II will play away agasint Lommel United on the 12th of May with a 2-1 head to head statistic in favor of Standard Liège II (0 draws).
Excelsior Virton – Formation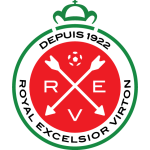 Excelsior Virton
Substitutes
The manager José Jeunechamps decided to play with the following team: Anthony Sadin, William Rémy, Thibaut Lesquoy, Ruben Droehnle, Jonas Vinck, Marc Olivier Doue, Kéres Masangu, Ilombé Mboyo, Hervé Kage, Yannick Aguemon and Yann Mabella.
The home team had on the bench: Vincent Koziello, Alessandro Albanese, Emeric Dudouit, Pierre Bourdin, Arne Cassaert, Hakim Djamel Abdallah and Geronimo De Ridder.
Substitutions
Excelsior Virton made 4 changes: Yann Mabella for Hakim Abdallah (55′), H. Kagé for Emeric Dudouit (55′), Yanick Aguemon for Pierre Bourdin (75′) and I. Mboyo for Arne Cassaert (88′).
Standard Liège II – Formation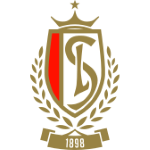 Standard Liège II
Substitutes
Joseph Laumann played with: Tom Poitoux, Frédéric Duplus, Brahim Traoré, Thiago Paulo da Silva, Noah Dodeigne, Rayan Berberi, Ilyes Ziani, Noah Mawete Kinsiona, Léandre Filipe Kuavita, Aleksander Buksa and Anisse Brrou.
These were the players on the bench: Birame Diaw, Brahim Ghalidi, Boubou Diallo, Samy Tory, Alexandro Calut, and .
Substitutions
Standard Liège II made 3 changes: R. Berberi for Brahim Ghalidi (58′), L. Kuavita for Birame Diaw (67′) and F. Duplus for A. Calut (75′).
Results of the day
These are the results of the day in the Challenger Pro League.​