AMSTERDAM. SC Cambuur prevails over Ajax Amateurs 5-0 after playing a incredible match. X. Flemming (22′ own), F. Krastev (35′), E. Schouten (38′), S. Smal (57′ own) and N. Doodeman (74′). SC Cambuur was vastly superior ball possession (74%) was among the key factors of its victory.​
The match was played at the Sportpark De Toekomst stadium in Amsterdam on Thursday and it started at 4:45 pm local time. The referee was Robin Vereijken who had the assistance of Thomas Krijt and Jeroen van der Waaij. The 4th official was Stijn van Zuilichem. The weather was clear. The temperature was cold at 12.2 degrees Celsius or 54 Fahrenheit. The humidity was 81%.​
Match Statistics​
!

26

Ball Possession

74
Shots
4

Total

15

1

On Target

8

3

Off Target

7

1

Shots blocked

1
78

Attack

152

39

Dangerous attack

117

85

Ball safe​

122
0

Penalties

0

0

Corners

7

1

Off Sides

6
Fouls
11

Total

7

3

Yellow Cards

0

0

Double Yellow

0

0

Red Card

0
Other
Ball possession
SC Cambuur had a strong ball possession 74% while Ajax Amateurs was struggling with a 26% ball possession.
Attitude and shots
SC Cambuur was more aggressive with 117 dangerous attacks and 15 shots of which 8 were on target. This is one of the reasons why SC Cambuur won the match.​
Ajax Amateurs shot 4 times, 1 on target, 3 off target. On the other side, SC Cambuur shot 15 times, 8 on target, 7 off target.
Cards
Ajax Amateurs received 3 yellow cards (T. Buis, M. Vloot and L. Slegt). On the opposite side, SC Cambuur didn't receive any yellow card.
Match Timeline
46'
Jasper ter Heide
- sub ->
Mees Hoedemakers
Moussa Anouar
- sub ->
K. Dames
67'
75'
Sam Hendriks
- sub ->
Jamie Jacobs
75'
Jhondly van der Meer
- sub ->
Doke Schmidt
Standings
After this match, Ajax Amateurs stays with points to occupy the 0th place in the table. On the other side, SC Cambuur has points (0th).
Next matches
Ajax Amateurs – Formation
Ajax Amateurs started with a 4-2-3-1 line-up (4-2-3-1).
The manager Detlef Le Grand decided to play with the following team: Ruben Zandwijken (5.6), Kenneth Dames (6.2), Luuk Slegt (6.2), Xamm Flemming (5.6), Lars Middelwijk (6.8), Yarimo Janzen (6.1), Timo van Roemburg (6.8), Tristan Buis (5.9) and Stefan Smal (6.2).
The home team had on the bench: Niels DeVries, Marinio van der Vloot (6.1), Moussa Anouar (6.6), Romano de Jonge, Vincenzo Schep, Michel van Aggele (6.3) and alex Sacca.
Substitutions
Ajax Amateurs made 5 changes: Y. Janzen for M. Anouar (54′), S. Smal for M. Vloot (67′), K. Dames for T. Stemerdink (67′), T. Buis for N. de Vries (82′) and X. Flemming for V. Schep (82′).
Best player: Lars Middelwijk​
Following our analysis, the most impressive player for Ajax Amateurs was Lars Middelwijk.
His rating is (6.8) with 16 passes (25% accurate) and 0 key passes. He was won 7 duels out of 7. He performed 3 crosses.
SC Cambuur – Formation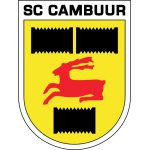 SC Cambuur
Substitutes
SC Cambuur started with a mid-fielder-oriented line-up (4-1-4-1).
Talking about the opposition, Henk de Jong played with: Sonny Stevens (7.2), Doke Schmidt (7.3), Calvin Mac-Intosh (7.4), Erik Schouten (8.3), Maxim Gullit (7.2), Mees Hoedemakers (7.1), David Sambissa (6.4), Jamie Jacobs (7.1) and Filip Krastev (7.9), Issa Kallon (6.8), Roberts Uldriķis (8.1).
The following players were sitting on the bench: Bret Minnema, Pieter Bos, Marco Tol, Jasper ter Heide (6.6), Robin Maulun, Jhondly van der Meer (6.5), Sam Hendriks (6.2), Tamás Kiss (6.6), Nick Doodeman (7.8) and Tom Boere.
Substitutions
SC Cambuur made 5 changes: M. Hoedemakers for J. Ter Heide (46′), I. Kallon for T. Kiss (46′), D. Sambissa for N. Doodeman (46′), D. Schmidt for J. van der Meer (75′) and J. Jacobs for S. Hendriks (75′).
Best player: Erik Schouten​
The most impressive player for SC Cambuur was Erik Schouten.
His rating is (8.3) with 1 goal, 98 passes (90% accurate) and 0 key passes. He was won 5 duels out of 7.
Results of the day
These are the results of the day in the KNVB Beker.​