SINT TRUIDEN. Sint-Truiden comes back against Genk with 2 goals from A. Samatta from a goal on the 62′ and a goal on the 23′. Genk was not able to win even if it was better in terms of ball possession (57%)
The match was played at the Stadion Stayen stadium in Sint Truiden on Sunday and it started at 1:30 pm local time. The referee was Erik Lambrechts who had the assistance of Jo De Weirdt and Kevin Monteny. The 4th official was Jonathan Lardot.
Match Statistics​
Shots
11

Total

10

5

On Target

5

6

Off Target

3

0

Shots blocked

2
128

Attack

106

34

Dangerous attack

39

0

Ball safe​

0
0

Penalties

0

2

Corners

2

2

Off Sides

2
Fouls
17

Total

11

3

Yellow Cards

1

0

Double Yellow

0

0

Red Card

0
Other
Ball possession
Genk had a superior ball possession 57% while Sint-Truiden was struggling with a 43% ball possession.
Attitude and shots
Genk had a more offensive attitude with 39 dangerous attacks and 9 shots of which 5 were on target. However, that was not enough Genk to win the match​.
Sint-Truiden shot 10 times, 4 on target, 6 off target. On the other side, Genk shot 9 times, 5 on target, 2 off target.
Cards
Sint-Truiden received 3 yellow cards (Frank Boya, Jorge Teixeira and Robert Bauer). Talking about the opposition, Genk received 1 yellow card (Bryan Heynen).
Match Timeline
Mory Konate
(goal)
Gianni Bruno
45'
Taichi Hara
- sub ->
Daichi Hayashi
68'
Wolke Janssens
- sub ->
Jorge Teixeira
68'
Aboubakary Koita
- sub ->
Eric Junior Bocat
72'
78'
Yira Sor
- sub ->
Joseph Paintsil 
82'
Nicolás Castro
- sub ->
Bilal El Khannouss
88'
Anouar El Hadj
- sub ->
Ally Samatta
88'
Angelo Preciado
- sub ->
N. Castro
Standings
After playing this encounter, Sint-Truiden will have 36 points like OH Leuven and Anderlecht to hold in the 12th place. Regarding the opposition, Genk will have 67 points to sit in the 1st place.
Next matches
In the next match in the Pro League, Sint-Truiden will host RFC Seraing on the 18th of March with a 3-2 head to head record in favor of RFC Seraing (1 draw).
Genk will play away agasint Cercle Brugge on the 17th of March with a 18-6 head to head stats in favor of Genk (5 draws).
Sint-Truiden – Formation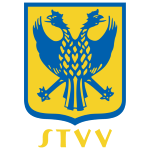 Sint-Truiden
Substitutes
Sint-Truiden started with a 3-4-1-2 line-up (3-4-1-2).
The manager Bernd Hollerbach decided to play with the following team: Daniel Schmidt (6.3), Matte Smets (7.3), Jorge Teixeira (6.1), Robert Bauer (7.2), Daiki Hashioka (6.4), Mory Konate (6.7), Frank Boya (6.1), Eric Bocat (6.2), Shinji Okazaki (7.3), Daichi Hayashi (7.0) and Gianni Bruno (8.1).
The home team had on the bench: Wolke Janssens (6.7), Stan Van Dessel, Jo Coppens, Taichi Hara (7.0), Rocco Reitz, Fatih Kaya and Aboubakary Koita (7.3).
Substitutions
Sint-Truiden made 3 changes: Daichi Hayashi for Taichi Hara (68′), Jorge Teixeira for Wolke Janssens (68′) and Eric Junior Bocat for Aboubakary Koita (72′).
Best player: Gianni Bruno​
As per our analysis, the most impressive player for Sint-Truiden was Gianni Bruno.
His rating is (8.1) with 1 goal, 25 passes (80% accurate) and 1 key pass. He was won 4 duels out of 10. He performed 2 crosses.
Genk – Formation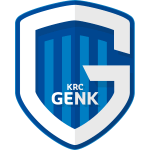 Genk
Substitutes
Genk started with a 4-2-3-1 line-up (4-2-3-1).
Wouter Vrancken played with: Maarten Vandevoordt (6.2), Daniel Muñoz (6.9), Carlos Cuesta (6.6), Mark McKenzie (6.3), Gerardo Arteaga (7.0), Bryan Heynen (6.8), Patrik Hrošovský (5.8), Joseph Paintsil (5.9), Bilal El Khannouss (6.3), Mike Trésor (6.4) and Mbwana Ally Samatta (8.6).
The following players were sitting on the bench: Ángelo Preciado, Mujaid Sadick Aliu, Anouar Ait El Hadj, Nicolás Castro, Tobe Leysen, Aziz Outtara Mohammed and Yira Collins Sor.
Genk could not rely on the presence of Angelo Preciado (injured).
Substitutions
Genk made 4 changes: Joseph Paintsil  for Yira Sor (78′), Bilal El Khannouss for Nicolás Castro (82′), N. Castro for Angelo Preciado (88′) and Ally Samatta for Anouar El Hadj (88′).
Best player: Mbwana Ally Samatta​
Following our analysis, the most impressive player for Genk was Mbwana Ally Samatta.
His rating is (8.6) with 2 goals, 16 passes (75% accurate) and 1 key pass. He was won 5 duels out of 11.
Results of the day
These are the results of the day in the Pro League.​