PLABENNEC. Grenoble Foot 38 prevails over Stade Plabennec 1-0 after A. Sbaï scored just 1 goal (11′).
The match was played at the Stade de Kervéguen stadium in Plabennec on Saturday and it started at 6:00 pm local time. The referee was Marc Bollengier with the help of Eric Danizan and Stephan Pignatelli. The 4th official was Pierre Legat. The weather was clear. The temperature was quite cold at 3.4 degrees Celsius or 38.1 Fahrenheit. The humidity was 75%.​
Match Statistics​
Shots
9

Total

4

6

On Target

2

3

Off Target

2

0

Shots blocked

0
76

Attack

84

51

Dangerous attack

47

0

Ball safe​

0
0

Penalties

0

6

Corners

3

1

Off Sides

1
Fouls
13

Total

19

1

Yellow Cards

2

0

Double Yellow

0

0

Red Card

0
Ball possession
No teams had a vastly superior advantage in terms of ball possession. Stade Plabennec was in possession of the ball for 48% of the time vs. Grenoble Foot 38 that controlled the ball for 52% of the time.
Attitude and shots
Stade Plabennec was more pushing with 51 dangerous attacks and 9 shots of which 6 were on target. Nevertheless, Grenoble Foot 38 succeeded in find the solution to win this match.​
Stade Plabennec shot 9 times, 6 on target, 3 off target. On the other side, Grenoble Foot 38 shot 4 times, 2 on target, 2 off target.
Cards
Stade Plabennec received 1 yellow card (Y. Kujabi). Regarding the opposition, Grenoble Foot 38 received 2 yellow cards (M. Phaëton and Amine Sbaï).
Match Timeline
11'
Mohamed Amine Sbai
(goal)
Jessy Benet
58'
Jordan Tell
- sub ->
M. Phaëton
Damien Elin
- sub ->
T. Le Goff
66'
Jérémy Le Saos
- sub ->
N. Madec
75'
Loann Guegan
- sub ->
R. Mourdi
77'
78'
Joris Correa
- sub ->
Abdoulie Sanyang
86'
Mohamed Amine Sbai
- Yellow
Standings
Next matches
Stade Plabennec – Formation

Stade Plabennec
Substitutes
Stade Plabennec started with a 5-3-2 line-up (5-3-2).
The manager Nicolas Cloarec decided to play with the following team: Antoine Fontaine, Jérémy Pinvidic, Marc Carneiro Da Silva, Thibault Le Goff, Mathis Abily, Christophe Le Roux, Théo Guillou, Simon Bourhis, Yahya Kujabi, Raphaël Mourdi and Nathan Madec.
The home team had on the bench: Loann Guegan, Jules-Kenjy Simane, Yanis Corbé, Anthony Laurent, Damien Elin, Jérémy Le Saos, Raphaël Lobé, Ludovic Laviec and Alexandre Uguen.
Substitutions
Stade Plabennec made 3 changes: T. Le Goff for D. Elin (66′), N. Madec for J. Le Saos (75′) and R. Mourdi for L. Guégan (77′).
Grenoble Foot 38 – Formation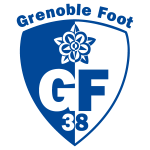 Grenoble Foot 38
Substitutes
Grenoble Foot 38 started with a aggressive line-up (4-3-3).
Vincent Hognon played with: Esteban Salles, Loïc Nestor, Adrien Monfray, Gaëtan Paquiez, Jordy Gaspar, Franck-Yves Bambock, Jessy Benet, Matthias Phaeton, Abdulia Sanyang, Pape Meïssa Ba and Mohamed Amine Sbai.
The following players were sitting on the bench: Joris Correa, Loris Néry, Alex Gersbach, Mamadou Diarra, Jordan Tell, Okardi Inikurogha, Torai Sihao, Brice Maubleu and Jekob Abiezer Jeno.
Substitutions
Grenoble Foot 38 made 2 changes: M. Phaëton for Jordan Tell (58′) and Abdoulie Sanyang for Joris Correa (78′).
Results of the day
These are the results of the day in the Coupe de France.​