CRAIOVA. U Craiova 1948 and UTA Arad draw 1-1. W. Baeten scored the first goal (22′) for U Craiova 1948. V. Postolachi made it even (72′).
The match was played at the Paksi FC Stadion stadium in Craiova on Sunday and it started at 3:30 pm local time. The referee was Szabolcs Kovacs with the collaboration of Ciprian Florin Danșa and Mircea Cristian Orbuleț. The 4th official was Andrei Moroiţă. The weather was cloudy. The temperature was cold at 7.8 degrees Celsius or 45.99 Fahrenheit. The humidity was 63%.​
Match Statistics​
Shots
7

Total

10

6

On Target

2

1

Off Target

8

0

Shots blocked

0
111

Attack

106

55

Dangerous attack

61

0

Ball safe​

0
0

Penalties

0

5

Corners

7
Fouls
12

Total

16

1

Yellow Cards

2

0

Double Yellow

0

0

Red Card

0
Other
The overall ball possession was identical with both teams controlling the ball for 50% of the time.
Ball possession
There was not much difference in terms of ball possession. U Craiova 1948 was in possession of the ball for 0% of the time vs. UTA Arad that controlled the ball for 0% of the time.
Attitude and shots
UTA Arad was more pushing with 61 dangerous attacks and 10 shots of which 2 were on target. Nevertheless, that was not enough UTA Arad to win the match​.
U Craiova 1948 shot 7 times, 6 on target, 1 off target. On the other side, UTA Arad shot 10 times, 2 on target, 8 off target.
Cards
U Craiova 1948 received 1 yellow card (Samuel Asamoah). Regarding the opposition, UTA Arad received 2 yellow cards (Bautista Cascini and Paul Anton).
Match Timeline
William Baeten
(goal)
Juan Bauza
22'
46'
Andrei Chindriş
- sub ->
Mihai Dobrescu
57'
Virgiliu Postolachi
- sub ->
Albert Stahl
65'
Stefan Milosevic
- sub ->
Claudiu Keseru
65'
Paul Anton
- sub ->
Bautista Cascini
72'
Virgiliu Postolachi
(goal)
George Ganea
- sub ->
Aurelian Chitu
73'
85'
Raul Șteau
- sub ->
Rares Pop
Lucas Barcellos
- sub ->
Yassine Bahassa
87'
Standings
After this contest, U Craiova 1948 will have 24 points like Hermannstadt, Argeş and Botoşani to remain in the 10th place. On the opposite side, UTA Arad will have 20 points to hold in the 15th place.
Next matches
In the next match in the Liga 1, U Craiova 1948 will host Universitatea Cluj on the 3rd of February with a 0-0 head to head record.
UTA Arad will play away agasint Chindia Târgovişte on the 3rd of February with a 3-2 head to head statistic in favor of Chindia Târgovişte (2 draws).
U Craiova 1948 – Formation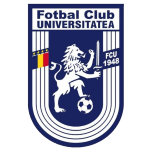 U Craiova 1948
Substitutes
U Craiova 1948 adopted the 4-2-3-1 line-up (4-2-3-1).
The manager Nicolò Napoli decided to play with the following team: Ion-Cristian Gurau, Jeremy Huyghebaert, Lorenzo Paramatti, André Lourenço Duarte, Radu Alexandru Negru, Samuel Asamoah, William Baeten, Juan Francisco Bauza, Constantin Dragoș Albu, Aurelian Ionuț Chițu and Yassine Bahassa.
The home team had on the bench: V. Blănuță, Matheus Mascarenhas dos Santos Raimundo, Jibril Ibrahim, Alexandru Blidar, Robert Popa, Benjamin Van Durmen, Ricardo Florin Grigore, Ionuț Marius Zanfir and George Dănuţ Ganea.
Substitutions
U Craiova 1948 made 2 changes: Aurelian Chitu for G. Ganea (73′) and Yassine Bahassa for Matheus Mascarenhas (87′).
UTA Arad – Formation

UTA Arad
Substitutes
Also UTA Arad adopted the 4-2-3-1 line-up (4-2-3-1).
László György Balint played with: Florin Iacob, Alexandru Constantin Benga, Erion Hoxhallari, Mihai Dobrescu, Marko Vukčević, Idriz Batha, Desley Ubbink, Juan Bautista Cascini, Albert Tivadar Stahl, Rareș Mihai Pop and Claudiu Andrei Keșerü.
The following players were sitting on the bench: Andrei Chindriş, Stefan Milošević, Raul Șteau, Romario Sandu Benzar, Haralambie Mociu, Erico Constantino da Silva, Paul Viorel Anton and Virgiliu Postolachi.
Substitutions
UTA Arad made 5 changes: Mihai Dobrescu for A. Chindriş (46′), Albert Stahl for Virgiliu Postolachi (57′), Claudiu Keseru for Stefan Milosevic (65′), Bautista Cascini for Paul Anton (65′) and Rares Pop for Raul Steau (85′).
Results of the day
These are the results of the day in the Liga 1.​