BEVEREN. Waasland-Beveren tops Beerschot-Wilrijk with a 2-0 win with a goal from T. Barry (8′) and an own goal from I. Alhassan (90′). Beerschot-Wilrijk lost this match even if it was better in terms of ball possession (57%).
The match was played at the Kunstrasenplatz Jean-Löring-Sportpark stadium in Beveren on Sunday and it started at 4:00 pm local time. The referee was Jasper Vergoote with the assistance of Michael Geerolf and Michele Seeldraeyers. The 4th official was Kevin Debeuckelaere. The weather was cloudy. The temperature was quite cold at 1 degrees Celsius or 33.8 Fahrenheit. The humidity was 89%.​
Match Statistics​
Shots
5

Total

8

2

On Target

1

3

Off Target

7

1

Shots blocked

4
93

Attack

98

72

Dangerous attack

83

85

Ball safe​

85
0

Penalties

0

2

Corners

14
Fouls
14

Total

10

4

Yellow Cards

2

0

Double Yellow

0

0

Red Card

0
Other
Ball possession
Beerschot-Wilrijk had a superior ball possession 57% while Waasland-Beveren was struggling with a 43% ball possession.
Attitude and shots
Beerschot-Wilrijk was more aggressive with 83 dangerous attacks and 8 shots of which 1 were on target. Anyhow, Waasland-Beveren was able to find the solution to win this encounter.​
Waasland-Beveren shot 5 times, 2 on target, 3 off target. On the opposite side, Beerschot-Wilrijk shot 8 times, 1 on target, 7 off target.
Cards
Waasland-Beveren received 4 yellow cards (Jakov Filipović, J. Van Damme, Everton Luiz and A. Vukotić). On the opposite side, Beerschot-Wilrijk received 3 yellow cards (Mardochée Nzita, Hervé Matthys and Marco Weymans).
Match Timeline
70'
Marco Weymans
- sub ->
Ilias Sebaoui
71'
Robbe Quirynen
- sub ->
Léo Seydoux
75'
Katuku Derrick Tshimanga
- sub ->
T. Ismaheel
84'
Ibrahim Alhassan Abdullahi
- sub ->
Nökkvi Þórisson
90'
Ibrahim Alhassan Abdullahi
(own-goal)
Standings
After this match, Waasland-Beveren will have 38 points to remain in the 1st place. Talking about the opposition, Beerschot-Wilrijk will stay with 35 points to remain in the 3rd place.
Next matches
In the next match in the First Division B, Waasland-Beveren will host Dender on the 11th of February with a 5-2 head to head stats in favor of Waasland-Beveren (2 draws).
Beerschot-Wilrijk will host RWDM on the 12th of February with a 1-0 head to head statistic in favor of RWDM (0 draws).
Waasland-Beveren – Formation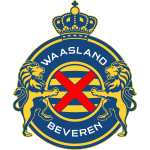 Waasland-Beveren
Substitutes
The manager Wim De Decker decided to play with the following team: Beau Reus, Sheldon Bateau, Aleksandar Vukotić, Jakov Filipović, David Hrnčár, Everton Luiz Guimaraes Bilher, Joachim Van Damme, Sander Coopman, Dieumerci Mbokani Bezua, Taofeek Ismaheel and Thiemo Barry.
The home team had on the bench: Louis Verstraete, Derrick Katuku Tshimanga, Lucas Ribeiro Costa, Brent Gabriel, Kévin Hoggas, Tom Reyners and Dries Wuytens.
Substitutions
Waasland-Beveren made 3 changes: S. Coopman for K. Hoggas (64′), T. Ismaheel for D. Tshimanga (75′) and T. Barry for Lucas Ribeiro Costa (83′).
Beerschot-Wilrijk – Formation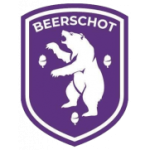 Beerschot-Wilrijk
Substitutes
Andreas Wieland played with: Bill Lathouwers, Hervé Matthys, Jan Van den Bergh, Mardochee Nzita, Léo Seydoux, Apostolos Konstantopoulos, Ryan Sanusi, Dante Rigo, Ilias Sebaoui, Nökkvi Þeyr Þórisson and Thibaud Verlinden.
They had on the bench: Luca Emanuel Meisl, Andi Koshi, Marco Weymans, Davor Matijaš, Abraham Okyere, Robbe Quirynen and Abdullahi Ibrahim Alhassan.
Substitutions
Beerschot-Wilrijk made 4 changes: Ilias Sebaoui for Marco Weymans (70′), Léo Seydoux for Robbe Quirynen (71′), Nökkvi Þórisson for Ibrahim Alhassan (84′) and Dante Rigo for Abraham Okyere (90′).
Results of the day
These are the results of the day in the First Division B.​