RAFSANJAN. Havadar and Aluminium Arak draw 1-1. E. Pourghaz scored the first goal (24′) for Havadar. M. Azadi made it even (62′).
The match was played at the Shohadaye Noushabad Stadium stadium in Rafsanjan on Saturday and it started at 2:00 pm local time. The weather was haze. The temperature was cold at 7.6 degrees Celsius or 45.72 Fahrenheit. The humidity was 28%.​
Match Statistics​
Shots
3

Total

7

1

On Target

4

2

Off Target

3

0

Shots blocked

0
93

Attack

119

55

Dangerous attack

63

0

Ball safe​

0
1

Penalties

0

3

Corners

3
Fouls
1

Yellow Cards

0

0

Double Yellow

0

0

Red Card

0
Other
Ball possession
There was not much difference in terms of ball possession. Havadar was in possession of the ball for 54% of the time vs. Aluminium Arak that controlled the ball for 46% of the time.
Attitude and shots
Aluminium Arak was more pushing with 63 dangerous attacks and 7 shots of which 4 were on target. Nonetheless, that was not enough Aluminium Arak to win the match​.
Havadar shot 3 times, 1 on target, 2 off target. Talking about the opposition, Aluminium Arak shot 7 times, 4 on target, 3 off target.
Cards
Havadar received 3 yellow cards (Babak Moradi, Babak Moradi and Dariush Shojaeian). Regarding the opposition, Aluminium Arak didn't receive any yellow card.
Match Timeline
Ezzatollah Pourghaz
(penalty)
24'
Standings
After playing this match, Havadar will have 18 points like Zob Ahan and Malavan to hold in the 12th place. On the opposite side, Aluminium Arak will have 21 points like Foolad and Nassaji Mazandaran to sit in the 8th place.
Next matches
In the next match in the Persian Gulf Pro League, Havadar will play away against Naft Masjed Soleyman on the 27th of January with a 0-0 head to head statistic.
Aluminium Arak will play away agasint Persepolis on the 1st of February with a 3-2 head to head statistic in favor of Persepolis (0 draws).
Havadar – Formation Havadar
Substitutes
The manager Saket Elhami decided to play with the following team: Mohammadreza Khaledabadi, Ezzatollah Pourghaz, Saeb Mohebi, Amirhossein Pourmohammad, Sepehr Rouzitalab, Mehdi Abdi, Mohammad Miri, Mohammad Chaharmahali, Babak Moradi, Mohammad Mehdi Mehdikhani and Mohammad Javad Mohammadi Marz Roudi.
The home team had on the bench: Daryoush Shojaeian, Mohsen Sefid Choghaei, Hossein Sadeghi, Fariborz Gerami and Mohammad Abbasi.
Substitutions
Havadar made 3 changes: Sepehr Roozitalab for Dariush Shojaeian (9′), Babak Moradi for Mohsen Sefid Choghaei (73′) and Mehdi Abdi for Mohammad Abbasi (75′).
Aluminium Arak – Formation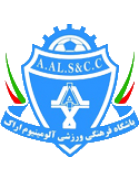 Aluminium Arak
Substitutes
Seyed Mehdi Rahmati Oskouei played with: Hossein Pourhamidi, Seyyed Milad Sheikh Fakhreddini, Vahid Mohammadzadeh, Mehran Mousavi, Amir Mohammad Houshmand, Alireza Naghizadeh, Mostafa Ahmadi, Mohammadreza Azadi, Ehsan Hosseini, Amir Nouri and Hansel Orlando Zapata Zape.
The following players were sitting on the bench: Esmaeil Sharifat, Amin Jahan Kohan, Reza Jabireh and Ali Vatandoust.
Substitutions
Aluminium Arak made 4 changes: Alireza Naghizadeh for Reza Jabireh (81′), Hansel Zapata for Ali Vatandoust (90′), Alireza Naghizadeh for Reza Jabireh (81′) and Hansel Zapata for Ali Vatandoust (90′).
Results of the day
These are the results of the day in the Persian Gulf Pro League.​