FèS. Maghreb Fès and Hassania Agadir draw 1-1. M. Bemammer scored the first goal (61′) for Maghreb Fès. K. Ait settled the score (80′) with a penalty.
The match was played at the Complexe Sportif de Fès stadium in Fès on Saturday and it started at 8:30 pm local time. The weather was rainy. The temperature was cold at 12.1 degrees Celsius or 53.85 Fahrenheit. The humidity was 93%.​
Match Statistics​
Shots
12

Total

7

4

On Target

3

8

Off Target

4

0

Shots blocked

0
150

Attack

122

73

Dangerous attack

65

126

Ball safe​

112
0

Penalties

1

5

Corners

3
Fouls
1

Yellow Cards

2

0

Double Yellow

0

0

Red Card

0
Other
Ball possession
None of the teams had a clear upper hand in terms of ball possession. Maghreb Fès was in possession of the ball for 53% of the time vs. Hassania Agadir that controlled the ball for 47% of the time.
Attitude and shots
Maghreb Fès had a more offensive attitude with 73 dangerous attacks and 12 shots of which 4 were on target. Notwithstanding, that was not enough Maghreb Fès to win the match​.
Maghreb Fès shot 12 times, 4 on target, 8 off target. On the opposite side, Hassania Agadir shot 7 times, 3 on target, 4 off target.
Cards
Maghreb Fès received 1 yellow card (L. Gourbi). On the opposite side, Hassania Agadir received 2 yellow cards (M. Cheikhi and F. Ben Choug).
Match Timeline
Mohamed Loumim
- sub ->
Ayoub Ouadrassi
57'
69'
Saifeddine Alami
- sub ->
J. Mbele
69'
Jalal Tachtach
- sub ->
Joyce Katulondi
Lahcen Gourbi
- sub ->
M. El Badoui
78'
82'
Abdellah Azakane
- sub ->
H. Kalai
Standings
After playing this match, Maghreb Fès will have 21 points like UTS Rabat and Difaâ El Jadida to hold in the 6th place. On the other side, Hassania Agadir will have 14 points to hold in the 13th place.
Next matches
In the next match in the Botola Pro, Maghreb Fès will play away with Moghreb Tétouan on the 28th of January with a 8-5 head to head stats in favor of Moghreb Tétouan (10 draws).
Hassania Agadir will host FUS Rabat on the 26th of January with a 9-9 head to head stats.
Maghreb Fès – Formation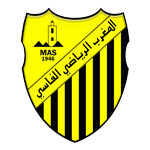 Maghreb Fès
Substitutes
The manager Abderrahim Chkilit decided to play with the following team: .
Substitutions
Maghreb Fès made 2 changes: Ayoub Ouadrassi for M. Loumim (57′) and M. El Badoui for L. Gourbi (78′).
Hassania Agadir – Formation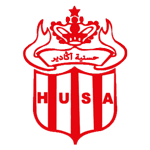 Hassania Agadir
Substitutes
Marcos César Dias de Castro played with: .
Substitutions
Hassania Agadir made 3 changes: J. Mbele for S. Alami (69′), Joyce Katulondi for J. Tachtach (69′) and H. Kalai for A. Azakane (82′).
Results of the day
These are the results of the day in the Botola Pro.​