NESS ZIONA. Sektzia Nes Tziona and Bnei Sakhnin didn't manage to score any goal on Saturday..
The match was played at the Nes Tziona Stadium stadium in Ness Ziona on Saturday and it started at 6:00 pm local time. The referee was Niv Steif.
Match Statistics​
Shots
6

Total

2

3

On Target

0

3

Off Target

2

0

Shots blocked

0
86

Attack

92

76

Dangerous attack

79

86

Ball safe​

99
0

Penalties

0

6

Corners

3
Fouls
4

Yellow Cards

2

0

Double Yellow

0

0

Red Card

0
Other
Ball possession
None of the teams had a clear upper hand in terms of ball possession. Sektzia Nes Tziona was in possession of the ball for 47% of the time vs. Bnei Sakhnin that controlled the ball for 53% of the time.
Attitude and shots
Bnei Sakhnin had a more offensive attitude with 79 dangerous attacks and 2 shots of which 0 were on target. Nonetheless, that was not enough Bnei Sakhnin to win the encounter​.
Sektzia Nes Tziona shot 6 times, 3 on target, 3 off target. On the other side, Bnei Sakhnin shot 2 times, 0 on target, 2 off target.
Cards
Sektzia Nes Tziona received 3 yellow cards (G. Melamed, A. Plumain and O. Ben Harush). Talking about the opposition, Bnei Sakhnin received 3 yellow cards (I. Trost, N. Dumitru and H. Hilo).
Match Timeline
8'
Sahar Tagi
- sub ->
Y. Ashkenazi
32'
Fabian Sporkslede
- sub ->
T. Tawatha
Ange-Freddy Plumain
- Yellow
52'
57'
Nicolao Manuel Dumitru Cardoso
- Yellow
64'
Muhamad Awad
- sub ->
I. Ganaem
Ness Nissim Zamir
- sub ->
A. Plumain
71'
Mor Fadida
- sub ->
O. Roizman
83'
Standings
After this contest, Sektzia Nes Tziona will have 17 points to hold in the 12th place. On the opposite side, Bnei Sakhnin will have 18 points like Hapoel Tel Aviv to remain in the 10th place.
Next matches
In the next match in the Ligat ha'Al, Sektzia Nes Tziona will play away with Hapoel Katamon on the 18th of February with a 1-0 head to head record in favor of Hapoel Katamon (0 draws).
Bnei Sakhnin will host Hapoel Katamon on the 30th of January with a 2-0 head to head stats in favor of Bnei Sakhnin (1 draw).
Sektzia Nes Tziona – Formation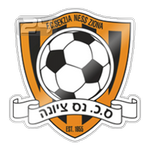 Sektzia Nes Tziona
Substitutes
The manager Shlomi Dora decided to play with the following team: Niv Antman, Omri Ben Harush, Michael Siroshtein, Stephane Acka, Dor Kochav, Ange-Freddy Plumain, Muhammed Usman Edu, Ilay Trost, Levan Kutalia, Ari Moura Vieira Filho and Or Roizman.
The home team had on the bench: Ness Nissim Zamir, Mor Fadida, Yosi Ginzburg, Liel Tsana, Amnon Tadale, Stav Israeli, Eylon Yerushalmi, Uri Magbo and Kachal Yosef.
Substitutions
Sektzia Nes Tziona made 2 changes: A. Plumain for N. Zamir (71′) and O. Roizman for M. Fadida (83′).
Bnei Sakhnin – Formation

Bnei Sakhnin
Substitutes
Kobi Refua played with: Gad Amos, Taleb Tawatha, Maroun Gantus, Obeida Darwish, Beram Kayal, Nicolao Manuel Dumitru Cardoso, Roei Shukrani, Yuval Ashkenazi, Ihab Ganaem, Guy Melamed and Hassan Hilo.
They had on the bench: Sahar Tagi, Fabian Sporkslede, Muhamad Awad, Gaby Joury, Fadil Zabidat, Mahmmoud Kanadil and Basil Khuri.
Substitutions
Bnei Sakhnin made 3 changes: Y. Ashkenazi for S. Tagi (8′), T. Tawatha for F. Sporkslede (32′) and I. Ganaem for M. Awaed (64′).
Results of the day
These are the results of the day in the Ligat ha'Al.​