CANTON. Meizhou Hakka snatched a late win Guangzhou R&F 1-0 after L. Junjian scored just 1 goal (90′). Meizhou Hakka was much better in terms of ball possession (67%) and that was among the factors of its victory.​
The match was played at the Yuexiushan Stadium stadium in Canton on Saturday and it started at 7:30 pm local time. The referee was Qi Xing assisted by Jingtao Guo and Mingfeng Wu. The 4th official was Xiaochen Zhang. The weather was clear. The temperature was pleasant at 24.3 degrees Celsius or 75.76 Fahrenheit. The humidity was 67%.​
Match Statistics​
!

32

Ball Possession

68
Shots
5

Total

10

3

On Target

3

2

Off Target

7

0

Shots blocked

4
64

Attack

137

27

Dangerous attack

69

98

Ball safe​

131
0

Penalties

0

6

Corners

6

1

Off Sides

2
Fouls
21

Total

21

1

Yellow Cards

5

0

Double Yellow

0

0

Red Card

0
Other
Ball possession
Meizhou Hakka was in firm control of the ball 67% while Guangzhou R&F was struggling with a 33% ball possession.
Attitude and shots
Meizhou Hakka had a more offensive attitude with 69 dangerous attacks and 10 shots of which 3 were on target. This is one of the reasons why Meizhou Hakka won the contest.​
Guangzhou R&F shot 5 times, 3 on target, 2 off target. Talking about the opposition, Meizhou Hakka shot 10 times, 3 on target, 7 off target.
Cards
Guangzhou R&F received 1 yellow card (Song Wenjie). On the opposite side, Meizhou Hakka received 5 yellow cards (H. Cai, Yin Hongbo, Liao Junjian, L. Huo and Liang Xueming).
Match Timeline
46'
Yi Guo
- sub ->
Yang Chaosheng
64'
Cui Wei
- sub ->
A. Vukanovic
67'
Chugui Ye
- sub ->
Guilherme
80'
Xueming Liang
- sub ->
Shi Liang
90'
Liao Junjian
(goal)
R. Henrique
Standings
After this encounter, Guangzhou R&F will stay with 15 points to hold in the 16th place. On the other side, Meizhou Hakka will have 40 points like Henan Jianye and Beijing Guoan to climb in the 9th place.
Next matches
In the next match in the Super League, Guangzhou R&F will play away against Chengdu Rongcheng on the 25th of November with a 1-0 head to head record in favor of Chengdu Rongcheng (0 draws).
Meizhou Hakka will play away agasint Dalian Professional on the 26th of November with a 1-0 head to head in favor of Meizhou Hakka (0 draws).
Guangzhou R&F – Formation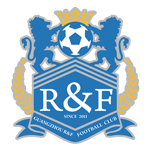 Guangzhou R&F
Substitutes
Guangzhou R&F started with a 5-4-1 line-up (5-4-1).
The manager Weifeng Li decided to play with the following team: Jiaqi Han (6.9), Liao Jiajun (6.8), Teng Yi (6.9), Miao Tang (7.2), Jihong Jiang (7.0), Chang Feiya (6.6), Guilherme (6.8), Gong Zhang (6.7), Li Yongjia (7.2), Jown Cardona (6.9) and Hong Gui (6.2).
The home team had on the bench: Fu Yuncheng, Zhang Jinliang, Liu Jiqiang, Song Wenjie (6.7), Yuelei Cheng, Wen Yongjun, Zhizhao Chen, Tixiang Li, Peng Wang, Chugui Ye (6.8), Yang Yang and Yikai Huang.
Substitutions
Guangzhou R&F made 3 changes: Gui Hong for Song Wenjie (56′), Guilherme for Ye Chugui (67′) and Y. Li for P. Wang (88′).
Best player: Miao Tang​
The most impressive player for Guangzhou R&F was Miao Tang.
His rating is (7.2) with 24 passes (79% accurate) and 0 key passes. He was won 2 duels out of 2. He performed 1 cross.
Meizhou Hakka – Formation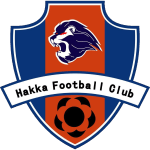 Meizhou Hakka
Substitutes
Meizhou Hakka started with a 4-2-3-1 line-up (4-2-3-1).
Milan Ristić played with: Hou Yu (7.3), Tze-Nam Yue (7.2), Liao Junjian (7.0), Rade Dugalić (7.4), Wei Wang (7.2), Liang Shi (7.0), Haochang Cai (7.1), Chaosheng Yang (6.9), Hongbo Yin (7.3), Rodrigo Henrique (6.0) and Aleksa Vukanović (6.4).
They had on the bench: Mai Gaoling, Wen Junjie, Xueming Liang, Yi Guo (6.7), Chisom Egbuchulam, Yihu Yang, Xu Lei, Liang Huo, Wei Cui (6.9), Yilin Yang, Guokang Chen (6.4) and Congyao Yin.
Substitutions
Meizhou Hakka made 5 changes: Yang Chaosheng for Y. Guo (46′), A. Vukanovic for Cui Wei (64′), H. Cai for G. Chen (67′), W. Wang for Yang Yihu (80′) and Shi Liang for Liang Xueming (80′).
Best player: Rade Dugalić​
As per our analysis, the most impressive player for Meizhou Hakka was Rade Dugalić even if he didn't score the decisive goal.
His rating is (7.4) with 56 passes (94% accurate) and 1 key pass. He was won 5 duels out of 5. He hit the woodwork once times.
Results of the day
These are the results of the day in the Super League.​