CHANGCHUN. Tianjin Teda had a striking comeback against Changchun Yatai.
The match was played at the Changchun's People Stadium stadium in Changchun on Saturday and it started at 7:00 pm local time. The referee was Jingyuan Jin with the collaboration of Zheng Luo and Tao Huang. The 4th official was Jing Wang. The weather was cloudy. The temperature was freezing at -2 degrees Celsius or 28.36 Fahrenheit. The humidity was 84%.​
Match Statistics​
Shots
12

Total

12

4

On Target

6

8

Off Target

6

0

Shots blocked

2
92

Attack

110

38

Dangerous attack

43

62

Ball safe​

70
1

Penalties

0

4

Corners

4

2

Off Sides

3
Fouls
15

Total

11

1

Yellow Cards

3

0

Double Yellow

0

0

Red Card

0
Other
Ball possession
None of the teams had a clear upper hand in terms of ball possession. Changchun Yatai was in possession of the ball for 49% of the time vs. Tianjin Teda that controlled the ball for 51% of the time.
Attitude and shots
Tianjin Teda was more pushing with 43 dangerous attacks and 12 shots of which 6 were on target. This is one of the reasons why Tianjin Teda won the match.​
Changchun Yatai shot 12 times, 4 on target, 8 off target. Talking about the opposition, Tianjin Teda shot 12 times, 6 on target, 6 off target.
Cards
Changchun Yatai received 1 yellow card (Wang Jinxian). Talking about the opposition, Tianjin Teda received 2 yellow cards (D. Andujar and Wang Qiuming).
Match Timeline
He Guan
- sub ->
Wang Jinxian
73'
Feng Shuaihang
- sub ->
Y. He
73'
85'
Yang Zihao
- sub ->
Z. Wang
85'
Zhou Tong
- sub ->
R. Beric
90'
T. Piao
- sub ->
Wang Qiuming
Standings
After playing this match, Changchun Yatai will stay with 31 points to hold in the 11th place. On the opposite side, Tianjin Teda will have 35 points to remain in the 10th place.
Next matches
In the next match in the Super League, Changchun Yatai will play away against Shenzhen on the 9th of December with a 11-3 head to head statistic in favor of Changchun Yatai (1 draw).
Tianjin Teda will host Shanghai SIPG on the 26th of November with a 14-0 head to head record in favor of Shanghai SIPG (5 draws).
Changchun Yatai – Formation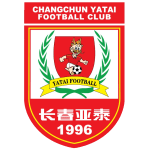 Changchun Yatai
Substitutes
Changchun Yatai started with a 5-4-1 line-up (5-4-1).
The manager Yang Chen decided to play with the following team: Yake Wu (7.0), Zhiyu Yan (6.9), He Yiran (6.6), Jores Okore (6.2), Cui Qi (6.5), Liao Chengjian (6.4), Serginho (8.5), Peter Žulj (7.9), Zhang Yufeng (6.6), Jinxian Wang (6.5) and Long Tan (6.3).
The home team had on the bench: Kaiyu Mao, Wang Huapeng, Ning Lu, Guan He (6.8), Feng Shuaifan (6.2), Júnior Negrão (6.2), Weiguo Liu, Erik (6.2), Changcheng Cheng, Jie Sun, Dilyimit Tudi and Huang Yijin.
Changchun Yatai could not rely on the presence of Sun Jie (injured).
Substitutions
Changchun Yatai made 5 changes: Tan Long for J. Negao (46′), Wang Jinxian for He Guan (73′), P. Zulj for Erik (73′), Y. He for Feng Shuaihang (73′) and C. Liao for Sun Jie (83′).
Best player: Serginho​
The player that probably impressed the most for Changchun Yatai was Serginho.
His rating is (8.5) with 2 goals, 39 passes (82% accurate) and 1 key pass. He was won 4 duels out of 6. He performed 4 crosses.
Tianjin Teda – Formation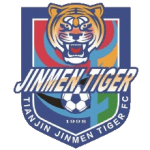 Tianjin Teda
Substitutes
Tianjin Teda started with a 4-2-3-1 line-up (4-2-3-1).
Genwei Yu played with: Jiamin Xu (6.4), Yuanjie Su (6.5), Fan Yang (7.1), David Andújar (6.4), Zhenghao Wang (7.4), Fran Mérida (7.0), Yinong Tian (6.8), Farley Rosa (7.0), Qiuming Wang (6.8), Dun Ba (7.0) and Robert Berić (7.0).
The following players were sitting on the bench: Yingjie Zhao, Yan Bingliang, Wei Zhang, Xie Weijun, Jiarun Gao, Tong Zhou, Song Yue (6.4), Zihao Yang, Piao Taoyu, Jia'nan Wang, Jingqi Fang and Qian Yumiao.
Substitutions
Tianjin Teda made 5 changes: Ba Dun for Y. Song (46′), Z. Wang for Yang Zihao (85′), F. Rosa for W. Xie (85′), R. Beric for Zhou Tong (85′) and Wang Qiuming for T. Piao (90′).
Best player: Zhenghao Wang​
The most impressive player for Tianjin Teda was Zhenghao Wang.
His rating is (7.4) with 1 goal, 51 passes (84% accurate) and 0 key passes. He was won 4 duels out of 6.
Results of the day
These are the results of the day in the Super League.​