CAEN. Caen didn't concede much to Annecy to lock the result on a 0-0 scoreline on Saturday. Caen was not able to win even if it was better in terms of ball possession (57%).
The match was played at the Stade Michel d'Ornano stadium in Caen on Saturday and it started at 7:00 pm local time. The referee was Olivier Thual with the collaboration of Camille Soriano and Matthieu Lombard. The 4th official was Renaud Potier. The weather was clear. The temperature was cold at 13.1 degrees Celsius or 55.62 Fahrenheit. The humidity was 88%.​
Match Statistics​
Ball possession
Caen was in firm control of the ball 57% while Annecy was struggling with a 43% ball possession.
Attitude and shots
Caen was more aggressive with 54 dangerous attacks and 8 shots of which 4 were on target. Nevertheless, that was not enough Caen to win the match​.
Caen shot 8 times, 4 on target, 4 off target. Regarding the opposition, Annecy shot 5 times, 1 on target, 4 off target.
Cards
Caen received 3 yellow cards (H. Mbock, B. Brahimi and E. Ntim). Regarding the opposition, Annecy received 6 yellow cards (B. Mendy, F. Lajugie, S. Shamal, K. Mouanga, V. Pajot and A. Temanfo).
Match Timeline
Y. Court
- sub ->
Q. Daubin
46'
S. Essende
- sub ->
G. Keyremeh
58'
B. Brahimi
- sub ->
H. Mbock
66'
71'
K. Testud
- sub ->
I. Balde
71'
M. S. Dion
- sub ->
A. Bosetti
B. Jeannot
- sub ->
A. Mendy
83'
83'
A. Temanfo
- sub ->
Y. Demoncy
90'
M. Bastian
- sub ->
S. Shamal
Standings
After this encounter, Caen will have 23 points like Valenciennes and Amiens SC to sit in the 5th place. On the other side, Annecy will have 16 points to remain in the 15th place.
Next matches
Caen – Formation
Caen
Substitutes
Caen started with a 3-4-2-1 line-up (3-4-2-1).
The manager Stéphane Moulin decided to play with the following team: Anthony Mandrea (6.6), Emmanuel Ntim (6.5), Romain Thomas (7.2), Djibril Diani (7.2), Hugo Vandermersch (6.8), Quentin Daubin (6.8), Hianga'a M'Bock (6.7), Ali Abdi (7.4), Jessy Deminguet (7.1), Godson Kyeremeh (6.8) and Alexandre Mendy (6.8).
The home team had on the bench: Ibrahim Cissé, Benjamin Jeannot, Bilal Brahimi (6.1), Samuel Essende (7.0), Yoann Court (6.5), Johann Obiang and Yannis Clementia.
Substitutions
Caen made 4 changes: Q. Daubin for Y. Court (46′), G. Keyremeh for S. Essende (58′), H. Mbock for B. Brahimi (66′) and A. Mendy for B. Jeannot (83′).
Best player: Ali Abdi​
Following our analysis, the most impressive player for Caen was Ali Abdi.
His rating is (7.4) with 50 passes (72% accurate) and 0 key passes. He was won 9 duels out of 16. He performed 2 crosses.
Annecy – Formation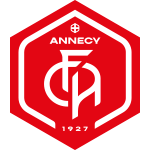 Annecy
Substitutes
Annecy started with a conservative line-up (4-5-1).
Laurent Guyot played with: Thomas Callens (7.4), Francois Lajugie (7.0), Kevin Mouanga (6.9), Bissenty Mendy (7.1), Gaby Jean (7.0), Ibrahima Baldé (6.5), Vincent Pajot (6.8), Ahmed Kashi (6.4), Yohan Demoncy (7.0), Steve Shamal (7.1) and Alexy Bosetti (6.2).
These were the players on the bench: Maxime Bastian, Kevin Testud (6.4), Dion Moise Sahi (6.8), Clement Billemaz, Jonathan Gonçalves, Arnold Temanfo and Tidiane Malbec.
Substitutions
Annecy made 4 changes: I. Balde for K. Testud (71′), A. Bosetti for M. S. Dion (71′), Y. Demoncy for A. Temanfo (83′) and S. Shamal for M. Bastian (90′).
Best player: Thomas Callens​
The player that probably impressed the most for Annecy was the goalkeeper: Thomas Callens. His rating is 7.41. He performed 5 saves.
Results of the day
These are the results of the day in the Ligue 2.​