PLOVDIV. Arda managed to reverse the score against Botev Plovdiv to win 2-1. It was Botev Plovdiv to strike first with a goal of A. Baroan at the 21′. Then it was a goal in the 70′ minute to make things even for 1-1. Eventually, L. N'diaye gave the win to Arda in the 90′ minute. Arda took advantage of its better ball possession (58%).
S. Souprayen received a red card (75′)​. This red card was one of the reason why Botev Plovdiv lost the match.
The match was played at the Stadion Lokomotiv stadium in Plovdiv on Saturday and it started at 12:30 pm local time. The referee was Stanislav Todorov with the help of Martin Dimitrov and Svetoslav Stoychev. The 4th official was Krasimir Krastev. The weather was cloudy. The temperature was cold at 8.5 degrees Celsius or 47.28 Fahrenheit. The humidity was 86%.​
Match Statistics​
Shots
14

Total

6

6

On Target

2

8

Off Target

4

0

Shots blocked

0
117

Attack

79

78

Dangerous attack

46

0

Ball safe​

0
0

Penalties

0

5

Corners

7
Fouls
8

Total

8

3

Yellow Cards

2

0

Double Yellow

0

0

Red Card

1
Other
Ball possession
Arda was in firm control of the ball 58% while Botev Plovdiv was struggling with a 42% ball possession.
Attitude and shots
Arda was putting more pressure with 78 dangerous attacks and 14 shots of which 6 were on target. This is one of the reasons why Arda won the match​.
Arda shot 14 times, 6 on target, 8 off target. Talking about the opposition, Botev Plovdiv shot 6 times, 2 on target, 4 off target.
Cards
Arda received 3 yellow cards (D. Ali, S. Kovachev and A. Petkov). On the other side, Botev Plovdiv received 2 yellow cards (H. Hankic and M. Brahimi).
Also, Botev Plovdiv didn't finish the match with 11 players after S. Souprayen (Botev Plovdiv) was sent off after receiving a straight red card in the (75′).
Match Timeline
51'
D. Mertens
- sub ->
J. Eto\'o
L. N\'diaye
- sub ->
T. Yordanov
69'
A. Georgiev
- sub ->
D. Ali
69'
H. Ivanov
- sub ->
I. Kokonov
69'
79'
J. Van Heertum
- sub ->
E. Manu
Junior Palmares
- sub ->
L. Kotev
83'
88'
A. Chernev
- sub ->
A. Baroan
M. Stoev
- sub ->
S. Kovachev
90'
Standings
After playing this match, Arda will have 26 points like Lokomotiv Sofia 1929 to hold in the 9th place. On the other side, Botev Plovdiv will stay with 19 points to remain in the 10th place.
Next matches
Arda – Formation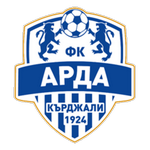 Arda
Substitutes
Arda started with a 3-4-2-1 line-up (3-4-2-1).
The manager Aleksander Blagov Tunchev decided to play with the following team: Anatoli Gospodinov, Milen Zhelev, Oumar Sako, Dzuniet Ali, Lachezar Kotev, Iliya Yurukov, Alex Petkov, Ivan Tilev, Svetoslav Kovachev, Ivan Kokonov and Tonislav Yordanov.
The home team had on the bench: Vasil Simeonov, Milen Stoev, Hristo Ivanov, Aleksandar Georgiev, Lassana N'Diaye, Kerimjan Ignatov and Jose Ederaldo da Silva Junior.
Substitutions
Arda made 5 changes: T. Yordanov for L. N'diaye (69′), D. Ali for A. Georgiev (69′), I. Kokonov for H. Ivanov (69′), L. Kotev for Junior Palmares (83′) and S. Kovachev for M. Stoev (90′).
Botev Plovdiv – Formation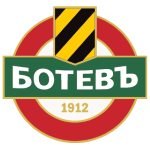 Botev Plovdiv
Substitutes
Botev Plovdiv started with a 3-1-4-2 line-up (3-1-4-2).
Željko Kopić played with: Hidajet Hankić, Pa Konate, Viktor Genev, Roberto Punčec, Samuel Souprayen, Reda Rabeï, Emmanuel Toku, James Eto'o, Mohamed Amine Brahimi, Antoine Baroan and Elvis Manu.
These were the players on the bench: Georgi Argilashki, Atanas Chernev, Jasper Van Heertum, Dimitar Tonev, Dylan Mertens, Martin Sekulić and Tochukwu Nadi.
Substitutions
Botev Plovdiv made 4 changes: J. Eto'o for D. Mertens (51′), E. Manu for J. Van Heertum (79′), A. Baroan for A. Chernev (88′) and E. Toku for T. Nadi (89′).
Results of the day
These are the results of the day in the Parva Liga.​