İSTANBUL. Eyüpspor beat Altınordu to win 2-1. A goal from A. Ozek was decisive in the 89min. It was Eyüpspor to strike first with a goal of A. Ozturk at the 26′. Then A. Ildiz scored again for Eyüpspor in the 58′ minute. Eventually, A. Ozek reduced the distance for Altınordu (89′). Eventually, that was it, and the result remained 2-1.
A. Ozek didn't convert a decisive penalty (89′). That would have allowed Altınordu to draw the match.​
The match was played at the Eyüp Stadı stadium in İstanbul on Sunday and it started at 7:00 pm local time. The referee was Burak Pakkan who had the assistance of Oğuz Terzi and Burak Cansız. The 4th official was Selim Özen. The weather was clear. The temperature was pleasant at 17.7 degrees Celsius or 63.82 Fahrenheit. The humidity was 68%.​
Match Statistics​
Ball possession
None of the teams had a clear upper hand in terms of ball possession. Eyüpspor was in possession of the ball for 52% of the time vs. Altınordu that controlled the ball for 48% of the time.
Attitude and shots
Eyüpspor was more aggressive with 49 dangerous attacks and 12 shots of which 5 were on target. This is one of the reasons why Eyüpspor won the match​.
Eyüpspor shot 12 times, 5 on target, 7 off target. Talking about the opposition, Altınordu shot 7 times, 3 on target, 4 off target.
Cards
Eyüpspor received 1 yellow card (A. Ozturk). On the opposite side, Altınordu received 2 yellow cards (M. Yilmaz and R. Kocak).
Match Timeline
Mete Kaan Demir
- sub ->
P. Dibba
83'
Bekir Yılmaz
- sub ->
A. Ildiz
90'
Standings
After this match, Eyüpspor will have 27 points to remain in the 1st place. Talking about the opposition, Altınordu will stay with 12 points like Tuzlaspor and Altay to remain in the 15th place.
Next matches
In the next match in the 1. Lig, Eyüpspor will host Tuzlaspor on the 2nd of December with a 1-1 head to head statistic.
Altınordu will host Bodrumspor on the 11th of December with a 0-0 head to head stats.
Eyüpspor – Formation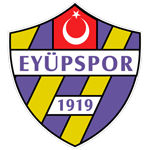 Eyüpspor
Substitutes
Eyüpspor started with a 4-2-3-1 line-up (4-2-3-1).
The manager İbrahim Üzülmez decided to play with the following team: Harun Tekin, Uğur Demirok, Ömer Bayram, Alpaslan Öztürk, Cenk Ahmet Alkılıç, Mehmet Murat Uçar, Ahmed Ildız, Sinan Kurt, Ryan Guno Babel, Pa Amat Dibba and Emeka Friday Eze.
The home team had on the bench: Okwuchukwu Francis Ezeh, Ahmet Özkaya, Cengiz Alp Köseer, Fethi Özer, Berkay Dogan, Erdem Gökçe, Berkan Emir, Bekir Yılmaz, Stéphane Badji and Mete Kaan Demir.
Substitutions
Eyüpspor made 3 changes: C. Alkilic for S. Badji (40′), P. Dibba for M. K. Demir (83′) and A. Ildiz for B. Yilmaz (90′).
Altınordu – Formation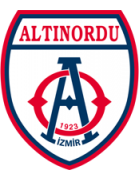 Altınordu
Substitutes
Altınordu started with a conservative line-up (4-5-1).
Arif Ufuk Kahraman played with: Ali Emre Yanar, Rıdvan Koçak, Ali Dere, Erdi Dikmen, Rahmi Salih Kaya, Kubilay Aktaş, Seref Özcan, Metehan Yilmaz, Safa Kınalı, Sami Satılmış and Ahmet Ilhan Özek.
The following players were sitting on the bench: Volkan Fındıklı, Yusuf Can Esendemir, Yusuf Yalçın Arslan, Emre Oymak, Serhat Öztaşdelen, Alperen Selvi, Gökberk Efe, Kürşad Sürmeli, Muzaffer Kocaer and Bertuğ Bayar.
Substitutions
Altınordu made 3 changes: S. Satilmis for B. Bayar (46′), S. Kinali for K. Surmeli (54′) and K. Aktas for Y. Arslan (89′).
Results of the day
These are the results of the day in the 1. Lig.​